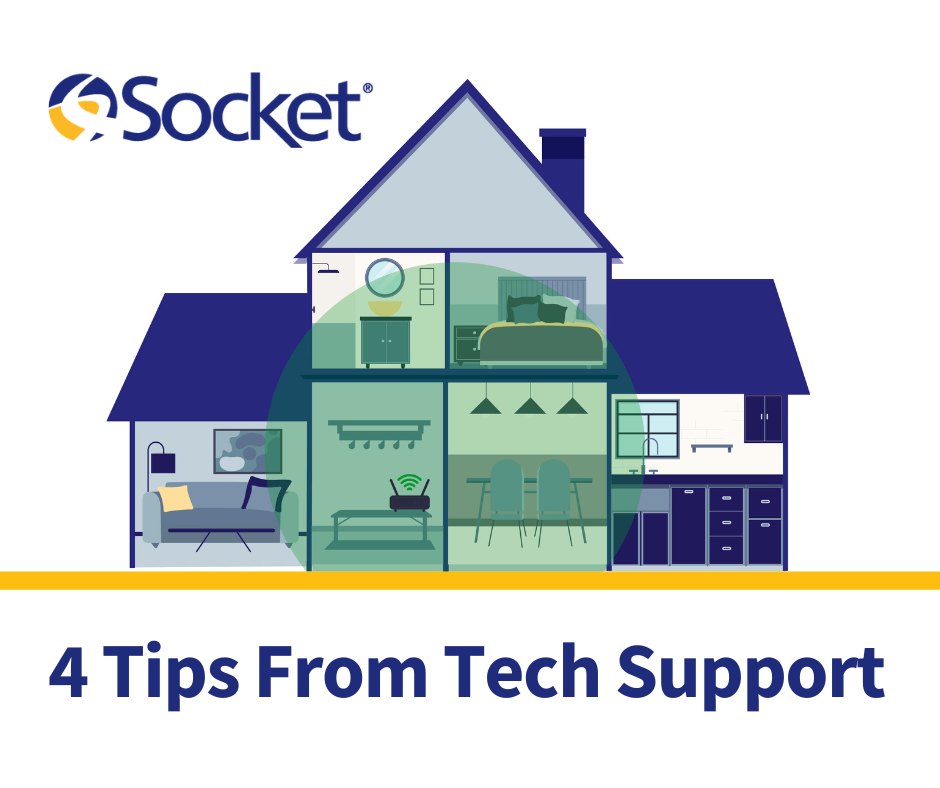 Technology can be confusing with its constant changes. If you don't keep up with it, you risk the knowledge you already have becoming outdated. Fortunately there are tech-savvy individuals on Socket's tech support team who can answer your questions. Steven, one of our tech support specialists, has worked at Socket since 2016. He provided us with answers to a few questions that people frequently ask.
Common Questions:
How do I restart my router?
Disconnect the skinny black wire - it's just like a cell phone charger - either from the back of the router, power strip, or outlet it's plugged into. Whichever is easiest for you.
Where should I place my modem/router in my house?
Think of it as the center of a bubble or sphere. You want it to be as centrally located as possible, up off the floor, and away from anything that might block signals. Metal and concrete are two of the most difficult materials for WIFI signals to pass through.
What should I do if my connection is weak in certain parts of my house?
There are a few different ways to solve this issue. You can relocate your router, add a second router, or get an extender if you aren't using our managed wireless service (MWS). The answer depends on your circumstances.
How do I turn on closed captioning on Socket TV?
Hit the "OK" button (the white button in the black ring) which brings up the info screen. There are several icons across the bottom - move the focus by pressing the right side of the black ring to "CC" and press "OK" again. It should remain on until you press it again.
These are just a few of the common questions people ask our tech support team. If you have additional questions or issues, give us a call at 1-800-SOCKET-3. Our team would be happy to answer your questions and resolve any technical issues that arise. If you're interested in signing up for Socket internet, you can see if your address is in one of our fiberhoods.