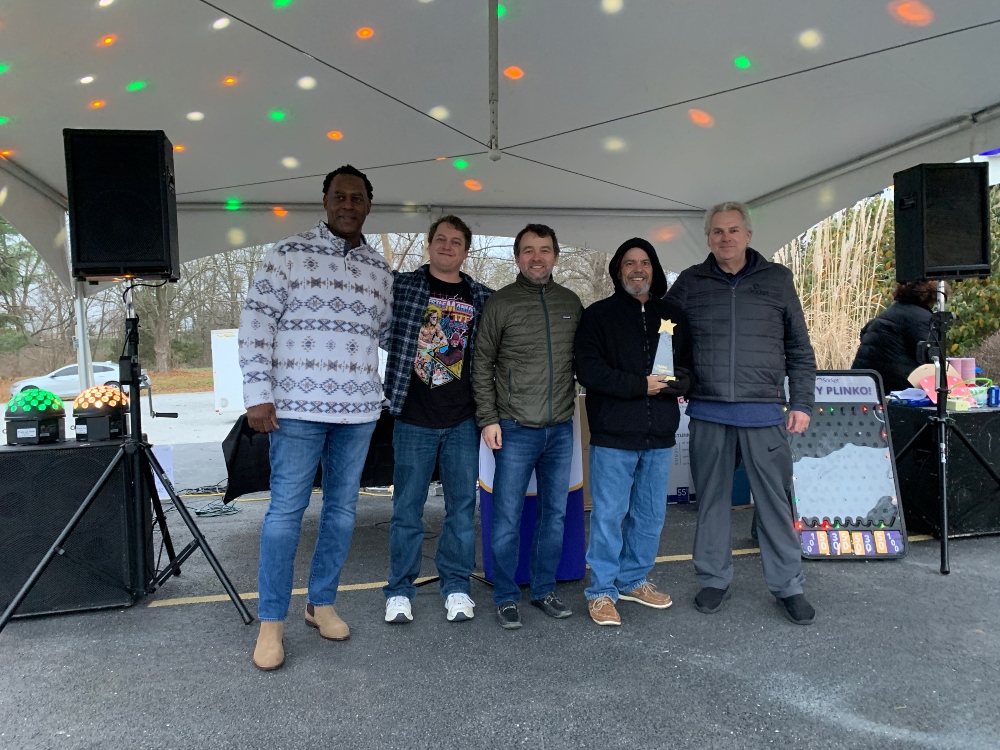 It's an end of the year Socket tradition that with careful consideration, Socket's owners, George and Carson, choose a deserving employee to be named Socketeer of the Year. This year's winner was chosen out of the twelve employees who were monthly You-Make-The-Difference winners throughout 2021. This award goes to someone who represents Socket's core values and beliefs while exemplifying everything there is to being named one of Socket's best and outstanding employees.
This year, George and Carson chose our 2021 Socketeer of the Year and TWO runners-up!
Our first runner-up is Johnathon Martin. Johnathon is an overnight Service Provisioner. He received a $2,500 gift card to Home Depot as he has been wanting to do some remodeling on his home! Fellow Socketeers who voted for Johnathon had very kind words to say:
"Johnathon has been a reliable and strong asset to Socket for years. He is knowledgeable and always so willing to train others. He is kind and great to work with."
"Johnathon does all that is asked of him and continues to "fly under the radar" since he works the overnight shift. He does the work of the NOC, Provisioning, and pretty much whatever is asked of him."
Our second runner-up for Socketeer of the Year is Tim Bruton. Tim is a Commercial Fiber Technician. He volunteers as a Big at Big Brothers Big Sisters of Central Missouri, so Socket donated $1,000 in his name to the organization. Tim also received a brand-new laptop and tickets to a Chiefs game at Arrowhead Stadium! Here are kind words co-workers said about Tim:
"This is so hard to choose just one person...Socket is made from a group of very unique, hardworking, intelligent people and everyone should be recognized for their contribution. But, if I have to pick one, I would select Tim. I have never once heard the word "can't" from him. I don't think he even knows the word…"
"There have been several situations that a plan has not gone as intended, regarding a fiber install, but somehow, Tim's attitude and knowledge, always shines through. Whether (literally weather) he is in the hot sun for hours at a time or in the rain trying to find a drop, Tim never leaves a job unfinished because he "can't" do it. Tim is one of the kindest people I know, and he is always willing to help anyone that needs it. I believe Tim deserves this award because every day he is ready to show just why Socket is completely different and unique from all of the other Telecommunications companies"
Finally, our 2021 Socketeer of the Year is Gary Smith! Gary is also a Commercial Fiber Technician, and he really loves his job!
The Socketeer of the Year has the opportunity to go above and beyond on their Christmas wish list. Gary received $3,000 towards a trip to Key West, FL as well as a 2018 Club Car Tempo gas golf cart.
Socketeers had these kind words to say about Gary:
"Gary is such a light at Socket, he is constantly positive and always looking to lend a hand to anyone, whether it be a fellow Socketeer or a customer. He deserves this award!!"
"Gary is really a trooper. He started as an SDC and did everything in power to help the customer from the office. Now he is working with the fiber team and is showing that same dedication getting new customer up."
"Gary Smith always goes above and beyond; this amazing coworker always has the can-do attitude that a true Socketeer of the Year should have."
"Gary is very meticulous in his work and has great customer service skills."
Congratulations to Gary, Tim, and Johnathon!