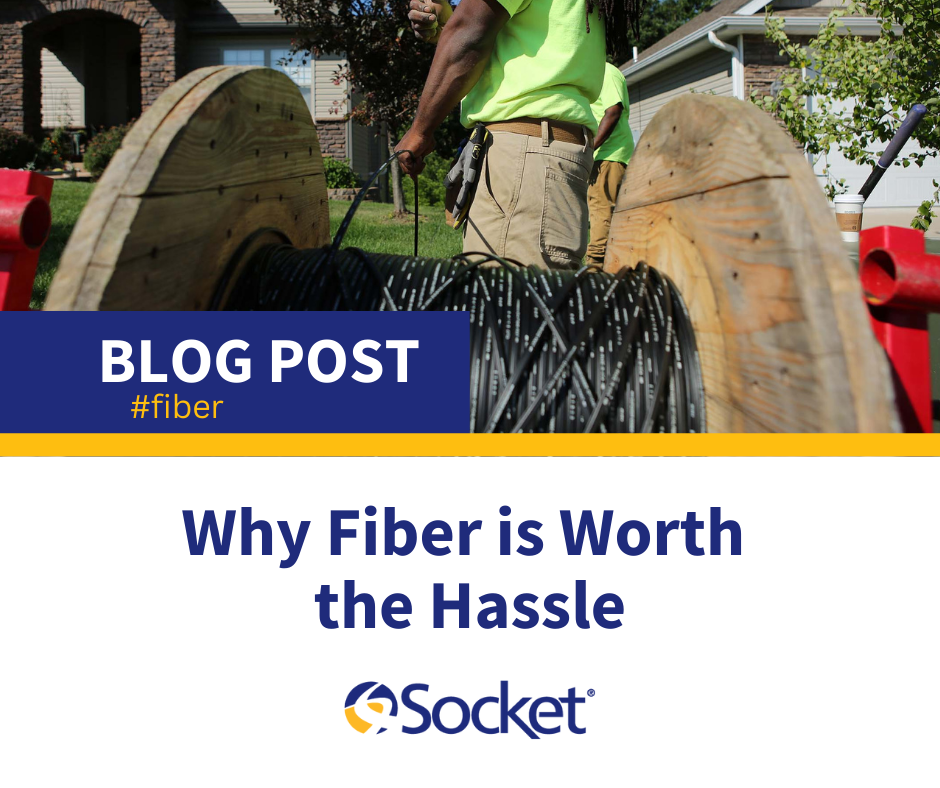 Trucks on the curb. Roadside digging. Traffic detours. Workers invading your quiet neighborhood. Although we do our best to minimize disruptions, we understand that the fiber construction process can be a noisy inconvenience.
Improving any infrastructure—from internet networks to public roads—can be a hassle at the time, but the outcome is (hopefully) always worth the temporary disruptions. As we work hard to bring future-proof fiber internet across Missouri, we wanted to take a few minutes to look ahead and consider all the value fiber can bring to our communities.
Fostering Remote Work Opportunities
For starters, fiber facilitates remote working. This provides more options to the people who live in our area while also enabling more people to move here and contribute to our local economy.
Remote working has expanded exponentially over the past several years, with some estimates indicating that up to a quarter of all professional jobs will be remote for at least a majority of their time. And having a reliable internet connection is simply essential for those remote workers to be productive and stay competitive with their colleagues.
Remote work involves much more than just web browsing and checking emails. Quality, interruption-free online videoconference calling is critical for remote workers to stay connected to their fellow staff members. Fiber internet has both the speed and the bandwidth necessary to make video calling clear and dependable, dramatically reducing the frustration so many individuals have felt in the past.
Energizing Economic Growth
Of course, the economic value of fiber internet extends well beyond remote workers! Indeed, our entire economy is improved by having access to future-proof internet.
Existing businesses are more efficient and can compete with companies in any major metropolitan area in America—or even around the world. That's because Socket's fiber internet is as fast as that of any large city.
Having fiber internet helps attract new business investment to our area, too—and with it, more jobs. Fiber has a "multiplier" effect on our local economy, as each new business and job attracted to our area because of fiber spreads economic growth across our region, helping it grow and flourish.
Fiber can enrich our community resources, too. Public schools can provide extra learning resources for all our students and teachers. Public libraries can offer increased research capacity, media, and programs. Community centers for seniors and youth can extend their outreach through skills-building and hobby workshops. Emergency services are able to respond more quickly and accurately when needed.
Improving the Value—and Security—of Your Home
As fiber internet is the most sought-after form of high-speed internet in America today, having internet through Socket can also increase the value of your home.
Indeed, one study indicates that having fiber internet can increase the value of a home by 3.1%! For the average-priced home in America, that could be a difference worth many thousands of dollars.
High-speed internet also helps protect your investment by keeping your home safer, too. Smart home technology has advanced considerably over the past several years. Smart cameras and doorbells can prevent "porch pirates," smart lighting adds visibility at night and deters trespassers, and security systems can alert you and emergency services if disaster strikes while you're away.
Get Connected!
As we continue to build out fiber in our town, we're excited about the future this technology can make possible across Missouri and we hope you agree! To find out when you can get connected, visit www.socket.net or call 1-800-SOCKET-3 today.